Withdrawn was one of Bristol Green Capital's flagship Arts Projects by Luke Jerram.  Among other inspiring Art, Luke is perhaps best known for his Earth, Moon and Mars exhibits, including in the Great Hall of the building my School resides in.  Withdrawn was a similarly contemplative piece and the following are the reflections I brought to the project via my co-curation and collaboration.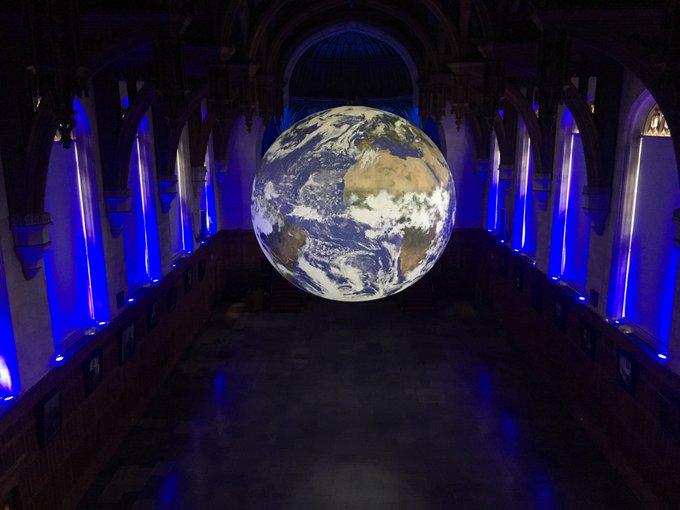 ******************************************
On the 23rd of August, and as part of Bristol 2015 European Green Capital, I have the privilege of participating in a conversation about the future of our coastal seas that has been inspired by Luke Jerram's ethereal and evocative Withdrawn Project in Leigh Woods.  The conversation will include Luke, but also the esteemed chef, Josh Eggleton who has championed sustainable food provision and is providing a sustainable fish supper for the event, and my University of Bristol Cabot Institute colleague, Dani Schmidt, who is an expert on the past and current impacts of ocean acidification on marine ecosystems.
My engagement with Withdrawn has been inspired on multiple levels, primarily the enthusiasm of Luke but also arising from my role as Cabot Director and my own research on the oceans. Withdrawn inspires reflection on our dependence on the sea and how we have polluted and depleted it, but also on how we obtain our food and the people at the heart of that industry.
All of these issues are particularly acute for our island nation, ringed by nearly 20,000 kilometres of coastline and culturally and economically dependent on the sea. Beyond our own nation, over 2.6 billion people need the oceans for their dietary protein, a point driven home to Cabot in conversations with Sir David Attenborough . He passionately referred to the oceans as one of our most vital natural resources. And of course, as Withdrawn reminds us, the oceans have vast cultural and spiritual value. It also reminds us that those oceans and those resources are at profound risk.
I've spent over 25 years studying our planet and its oceans. However, my first ocean research expedition did not occur until 1999, and it was a transformative experience. We were exploring the deep sea communities fuelled by methane extruded from the Mediterranean seafloor.  Isolated from light, the ocean floor is a largely barren world, but in parts of the Mediterranean it is interrupted by explosions of colourful life, including tubeworms, bacterial colonies, fields of molluscs and strange and lonely fish, all thriving in exotic mountains of carbonate crusts cut by saline rivers. These are vibrant ecosystems but so far removed from the surface world and light that they instead depend on chemical energy sourced from deep below the bottom of the ocean. And even here we found human detritus, plastic and cans and bottles.
Those were powerful observations, in large part because of their symbolism: our influence on the oceans is pervasive and quite often in ways that are challenging to fully comprehend and often invisible to the eye. These include, for example:
The potentially devastating impact of plastic on marine ecosystems, including plastic nanoparticles that are now, for all intents and purposes, ubiquitous. Of course, pollutants are not limited to plastic – our lab now identifies petroleum-derived hydrocarbons in nearly every ocean sediment we analyse.
The decreasing pH of the oceans, due to rising CO2 levels, an acid when dissolved in water. We acidifying the oceans, apparently at a rate faster than at any other time in Earth history, a deeply alarming observation. We are already seeing some consequences of ocean acidification on organisms that make calcium carbonate shells. However, what concerns most scientists is how little we know about the impacts of rapid ocean acidification on marine ecosystems.
Ocean warming. A vast amount of the energy that has been trapped in the Earth system by higher greenhouse gas concentrations has been absorbed by the oceans. Its impact on marine life is only beginning to be documented, but it has been invoked, for example, as an explanation for declines in North Sea fisheries.
And these represent only a few of the chemical and environmental changes we are making to the marine realm. They do not even begin to address the numerous issues associated with our over-exploitation and poor management of our marine resources.
Compounded, these factors pose great risk to the oceans but also to all of us dependent on them. As Cabot Institute Director, I engage with an inspiringly diverse range of environmental scientists, social scientist, engineers, doctors and vets.   And in those conversations, of all the human needs at threat due to environmental change, it is water and food that concern me the most.  And of these, our food provision seems the most wildly unpredictable. The synergistic impact of warmer temperatures, more acidic waters, and more silt-choked coastal waters on a single shellfish species, let alone complex ecosystems such as coral reefs or North Sea food webs, is very difficult to predict. This uncertainty becomes even more pronounced if we factor in nutrient runoff from poorly managed land, eutrophication and ocean anoxia leading to more widespread 'dead zones'. Or the impact of plastic, hydrocarbon, and anti-biofouling pollutants. The ghost ships of Withdrawn quietly tell the story of how our increased demand and poor management have led to overexploitation of fish stocks, causing an industry to face increasing uncertainty. But they also invoke deeper anxieties about how environmental change and pollution of our seas could devastate our food supply.
But Withdrawn, like other Green Capital Arts projects and like all inspiring art, does not telegraph a simple message.  It does not shout to 'bring back local fisherman' or 'save our oceans'.  These messages are present but subtly so, and for that both Luke and the National Trust should be celebrated. The boats themselves are captivating and draw you into the fisherman's efforts; they acknowledge our dependence on the ocean and that we must continue to exploit it. To others they are suggestive of some past catastrophe, a tsunami that has somehow deposited fishing boats in a wildly unanticipated place. And yet to others, they suggest the changing character of seas, seas that once stood 100 m higher than they do today and which almost certainly will do so again if all of our coal and oil is burned into carbon dioxide.
Withdrawn is about all of those things. And consequently, at its deepest level, I think Withdrawn is about change.
Geologists have a rather philosophical engagement with the concept of change – on long enough timescales, change is not the exception but the defining character of our planet and life. I should clarify that the aforementioned Mediterranean expedition was my first proper research excursion to the modern seas, but it came long after numerous visits to ancient ones.  In 1993, my PhD co-supervisor Mike Arthur took a group of us to Colorado where we collected samples from sedimentary rocks that had been deposited in the Cretaceous Western Interior Seaway 90 million year ago, a Seaway from a hotter, ice-free world, in which higher oceans had invaded a downflexed central North American basin. That might not seem like a proper marine experience but to a geologist you can reconstruct an ocean in startling clarity from the bold clues preserved in the rock: current flows that tell you the shape of the coastline; fossils that reveal the ecosystem, from cyanobacterial mats on the seafloor to inoceramids and ammonites to great marine reptiles in the waters above; and the rocks themselves that reveal a shallow sea in which limestone was deposited across a great platform.
But it was only like this at some times.  The fascinating aspect of these rocks is the complex pattern of sedimentation – from limestones to shales and back again – limestones that were much like the lime cliffs of Lyme Regis, switching in a geological blink of the eye to oil shales similar to those in Kimmeridge Bay, from which, further North and at greater depths and pressures, North Sea oils derive. Limestone. Shale. Limestone. Shale. A pattern repeated hundreds of times.  In the Western Interior Seaway.  Along the Jurassic Coast. Across the globe, from the Tarfaya, Vocontian and Maracaibo basins to the Hatteras Abyss, from Cape Verde to the Levant Platform. Cycles and cycles of astonishingly different rock types – all bundled up in patterns suggesting they were modulated by the ever changing character of Earth's orbit.  These cycles are change, from a sea with clear waters, little algal growth and ringed with reefs to one fed with nutrients and gorged with algal blooms and stripped of oxygen.
Change is a necessary and inevitable feature of our planet.  And of the human condition.
But we seem incapable of resisting the urge to impose a value judgment for or against change. It is either viewed as a technocratic marvel to be celebrated or a violation against the natural state of the world and to be resisted.  But often, change is conflated with loss.  And there is something of loss in Withdrawn. These are the 'Ghost Ships' of Leigh Woods.  Ghosts of a way of life that no longer exists. Ghosts of the animals these boats once hunted.  Ghosts of some past and inexplicable event.
Of course, change will always be about progress vs loss, its value neither solely good nor bad but nonetheless inevitable.  But just because a geologist recognises the inevitability of change does not mean he thinks we should be passive to it. Change will come but should be managed, a significant challenge given its rapid pace over the past 150 years. In fact, one of the main observations of Dani Schmidt's research is that our current rate of environmental change appears to be essentially unprecedented in Earth history, let alone human experience.
My hope is that Withdrawn has caused people to engage with the concept of change. How do we manage change in the 21st century?  How do we recognise those things that can and should be let go. As one visitor said, 'We want to resist romanticising the past.'  Conversely, how do we decide what change must be moderated, because its cost is too high?  We can reduce our plastic consumption and waste, and we can enforce more rigorous regulations to stop the pollution of our planet – and we should.  More complicated questions arise from how we manage our dependencies on these precious marine resources, but it is clear that we can eat fish more sustainably and that we must create marine reserves that will not only conserve species but serve as biodiversity hotspots benefitting all of the oceans.
Perhaps most importantly, how do we recognise those things that must be preserved?  When I see the ghost ships of Withdrawn, I feel the poignant loss of our connection with nature and our connection with what it provides. Our food is now produced far away, delivered to sterile supermarkets via ships, trains and lorries; maybe that is necessary on a planet of over 7 billion people but if so, we must strive to preserve our connection to the sea – to our whole planet – understanding what it provides and understanding its limits.